Jan 12 2008


sand
Phil Smegma, il nostro corrispondente midget, ci segnala numerose lamentele da parte di un gruppo di fruitori del software Firefox; essi sono divenuti boriosi scoprendo che la loro consultazione di internet (paragonata ad una biblioteca) e' danneggiata dall'ostile atteggiamento del browser nei confronti di davvero tanti tab (o libri) aperti.
Lamentazioni supporta questo iracondo gruppo locale.
Passando alle notizie del giorno, l'animo umano e' una bestia, niente a senso. Tutto e' male.
Un nanetto su di una giostra ci informa che:
If you need to undo a change completely, as in remove all traces it ever happened, there is really only one way to do it. You need to dump the repository up to the revision you want to remove, and then recreate and load the repository from the dump file.
A questo punto si puo' evincere l'assoluta' UTILITA' del sistema di Version Control chiamato SVN (o SOFFOCONE).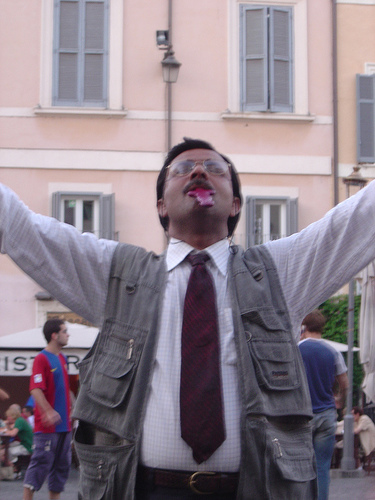 P.S.
CUM UNTO CHRIST.
7 responses so far
7 Responses to "Palle Nyborg mi subversiona le palle"
soren

on 13 Jan 2008 at 4:25 pm

1

macoooooo guarda macoooooo

psikolo

on 14 Jan 2008 at 10:33 am

2

guaaarda questaaa ispaaadaaaaa

soren

on 14 Jan 2008 at 4:12 pm

3

psikoloooooo :D

psikolo

on 15 Jan 2008 at 2:20 pm

4

guardaaa sorennnnoo cuardaaaaaa… cuardaaa questaaaa botttoleeeeee…

soren

on 16 Jan 2008 at 4:00 pm

5

cuaaaaaardaaa…cuardaaaaa…cuardaaaa capelliiii
cmq ho beccato anche un clone del maco guarda che fa spettacoli piu insulsi e vavnta apparizioni in tv e partecipa a feste per bambini

psikolo

on 16 Jan 2008 at 4:26 pm

6

Minchia…. la categoria del maco allora va un casino… mesà che cambio lavoro. Magari si inforca anche le mamme dei bambini (porco dio).

Hahahah, do' cazzo l'hai presa la foto di sto mito?
Leave a Reply